This post entry is a submission to this contest organized by Nuffnang and McDonald's.
You might have or not heard about the McValue LUNCHTM promotion. If you have not, I have composed an edgy acoustic-rock song to summarize the promotion as below. You may scroll the lyrics down or up via hovering over the related arrows.

McDonald's® McValue Lunch LYRICSTM Lyrics _ _
McDonald's® , McValue LunchTM
Yeah

Anytime from 12 to 3pm (Anyday too)
For your lunch or for your 'tea' (It's up to you)
Dine in , take away or even Drive-thru
You could even use delivery.

(Order) Order McValue LunchTM from RM5.95 (to 7.95)
It comes with a soft drink(*slurp-ing*) and
also french fries (*munching*)
You can choose from this list (Uhh Uhhhh)
Wow!
Can't believe it, there are so many choices
Let's see Let's see
Fillet-O-fish
Big Mac
Mac chicken
Spicy Chicken Mac Deluxe

Which one should I eat?

*Terms and conditions apply

Copyright © all Music by Sean Lon of Sean.At.UA
The promo list.



Yesterday, I went to MCDonald's SS15, Subang Jaya the Drive-Thru branch.



Ordered this one. Large set.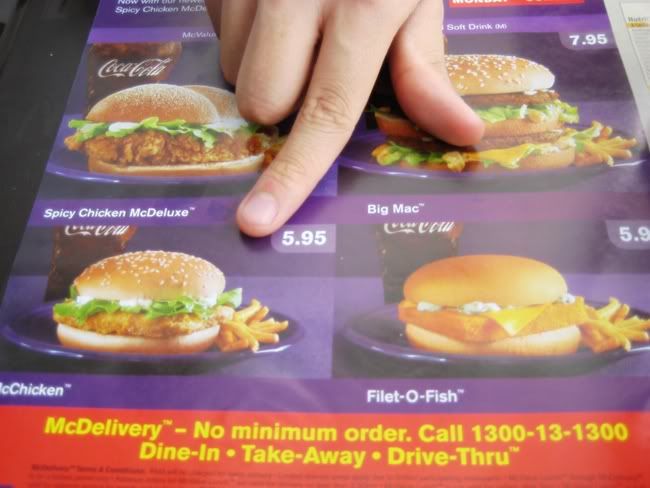 Then, waited with a friend YJ, for my friends to come. All avid practitioners of "Malaysian-Timing". LOL. Malaysian Timing is a concept whereby one must assume additional given buffer of at least 30 minutes from the verbally-agreed appointed time between two parties.

The issue/problem/dilemma/conflict question is when a friend arrives only at 3 P.M but wants to have their McValue LunchTM. How to order? Could it be... Have a calculated contingency plan ? Try to negotiate with the branch manager?
Watch the video below to see the solution.
The recording is a re-constructed depiction of the scene. Yes, the solution is the obvious. The answer is to have an understanding friend. From the video scene, we see that being late (overrun-ed time), means potentially missing out opportunity to eat(scope/goal). With the cheaper price of McValue LunchTM price(money), I was incentive-fied to order one more reserve set for my friend as the sets were not so expensive. As a result, the lost time can be compensated. What we see here is the 'value' of time,money and scope being adjusted in the context.
Before, I end this post. Instead of rhetorically asking you this question, I would like to ask you this instead. ..


YJ actually waited more than 30 minutes before we all arrive. Actually, have two more friends but they too shy to be featured in the video. recording.