P/s: This post is suitable to anyone of all ages and contains 100% imaginary jokes. However, viewer discretion is advised. This post is solely an expression of Dr Crap, a fictional character. You are not advised to actuate the site owner/author, Sean Lon with Dr. Crap. By the way, Dr. Crap is also a Kuching blogger. View related post.
Many people have the mindset that if a guy has a piercing on the right side of his ear, that guy is a homosexual.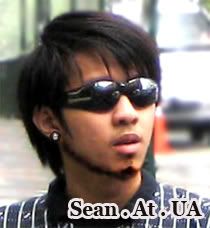 Else, that guy is considered 'straight' otherwise.

What if that guy pierces on both sides of his ears? Is he bisexual then?
It beats me to know.
*Shaves the mouth facial hair*
Living as Dr Crap, cannot be any easier. There are just too many dark secrets in my life that were hidden privately.

This is my first journal entry of my scandalous date yesterday. We agreed to meet near the indoor lake of Plaza First World, Genting. I waited for almost two hours but he didn't show up. I was getting furious and at the same time worried. I began pondering on all the things he taught me.

He taught me the Fergie's boogie 'Pump-it!' dance which I ended up using, last month in public to cure my boredome.

He taught me to Salsa dance which I ended up using last week: to save myself when the piling of the 2-meter-high stacked books began falling down.

He taught me to sit on the "luckiest chair" before gambling in Genting Highland's Casino and Sports Toto last year, which I applied in my everyday life.

John finally arrived. *Yodels joyfully* Shy Shy as ever.

Actually, we met on the internet. As cliché as it sounds, he always tries to reassure me in my insecurities in this relationship.
Last week, his dad who owns a Photo Shop located next to NuffNang's firm took for me our wedding picture.( I had to wear the same clothes because I am just a fictional character, mah)

Let me end by saying, "John is my partner!"



Shh.., it's our secret!
Song I'm Listening to right now: Lucky- Jason Mraz feat. Colbie Caillat