Almost everyone, especially the ladies like to state "traveling" as part of their interests in their personal profiles. It was a taboo word to me- I dare not describe that as part of my interest because I never knew how fun traveling could be.

Not until my uncle and auntie sponsor this vacation trip. Thank you! This is my best Christmas gift, ever received. 19 -23 December 2008. For this trip, I explored areas in Shenzhen (China) and Hong Kong. However, in this post, I would be sharing only on Shenzhen-pertinent experiences.

It was a 4-hour flying journey from our LCCT airport to Shenzhen International Airport.
In the plane, after munching down the graphically over-rated menu meals.
This is actually my first time traveling alone with just my brother. At first, the procedures of checking in luggage, immigration and gate identification & verification seemed somewhat complicated. After much briefing, guide and talk through from mom, auntie and uncle, finally we comprehended them.

The weather is really cold and breezy there. What I find ironically amusing, is that the weather is sunny bright yet it is chilly freezing like being in Genting Highland. If I recalled correctly, Shenzhen Weather reports the temperature ranges from 13 to 20'C. Without thick clothing, it is definitely unbearable at night and morning.

My frozen expressionless face .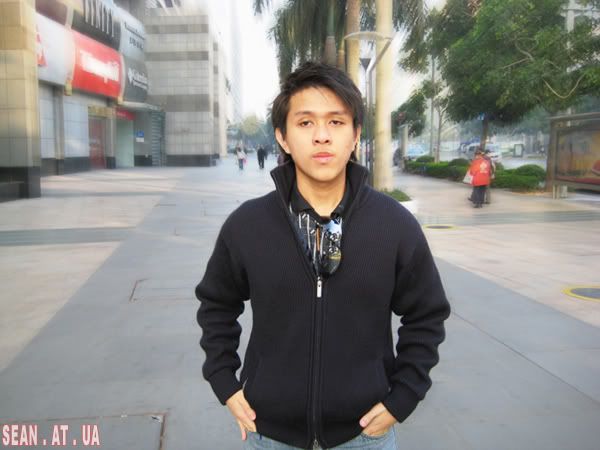 I love the weather there! As compared to Malaysia, the weather here is always bloody hot and in the afternoon, I always get fever and headache. Furthermore, the cold weather there maximize the Christmas 'feel' since we always visualize a perfect Christmas to be cold.Right?

Outside of the building of my uncle's apartment.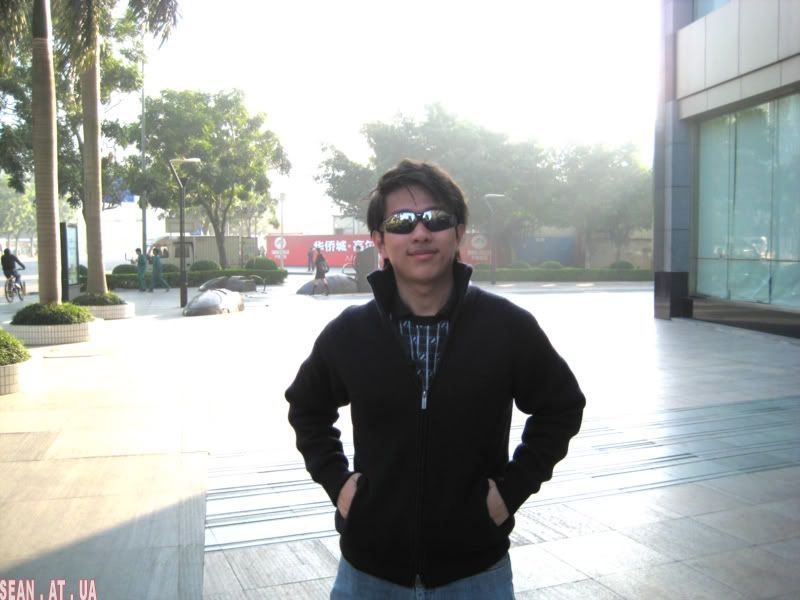 We dined at Malaysian-food Restaurants, Focaccino and Pizza Hut. They are really expensive but we had tasty and satisfying meals.

I didn't really have the time to snap more food photos because we were too hungry walking entire day. When the food arrived, we became so busy filling them into our stomachs rather than inputting them into our cameras.

My primary motive there was sight-seeing, dining and shopping AND CAM-POSING (male's version of cam-whoring).
But, one drawback every public transport has is its safety. That day, we (me, uncle and brother) witnessed a pick pocket live.

Fortunately, God is good! We nearly become the predator's victim. We found ourselves seats and thus, were in a more secure position during that peak hour (crowded passengers). My uncle tapped my thighs few times signaling me to look-out at the passengers standing in front of us. There were two ladies chatting among themselves. One was the victim. The victim was carrying a handbag with long handles situated below her waist level. Another male passenger (predator) was standing close to her back. At the next station, another guy (predator's accomplice) came in. They pretend like they are not associated to each other. The accomplice moved in front the ladies to create a distraction point when it was crowded that time while the predator standing behind the ladies, unzipped the victim's bag and stole her purse. Both the predator and his accomplice fled at the next station stop. When the door opens, crowded passengers struggled to enter and leave. They left with the mob.

Actually, I only saw the predator's hand near the ladies bag but my uncle saw everything clearly. He informed the victim (lady) only after the pickpockets left the train. He could not do anything during the incident because my uncle knew that the pickpockets had backup group members nearby(Syndicate). They could turn the situation around using their majority supporters to instead accuse my uncle as the pick pocket. My uncle is a local in Shenzhen and had 3 times experience of almost becoming a victim of such incidents.

When he told me that in the train, he showed me few more suspicious characters which have not left. Upon looking, you can tell that they are up to no good. Usually these people travel alone without any baggage signifying their interest to leave with one. After we left the train, my uncle shared his source of suspicions, "This guy just kept on looking at my bag and his eyes kept looking around at other people's belongings." My uncle further explained to me that if the predator failed to rob that lady victim, they would find another target and there was a high chance he could be the victim because he's carrying a bag.
Hence, be careful and aware each time you take public transport!

Anyway, I went to several places with the train as a primary mean to journey places. Here are some other pictures the places that I want to share with you. ;)


I'll stop here! You'll have to go there to experience yourself the joy.
;]
Stay tuned for my next post, it's gonna be about Hong Kong Streets and Disney Land.